07 September, 2019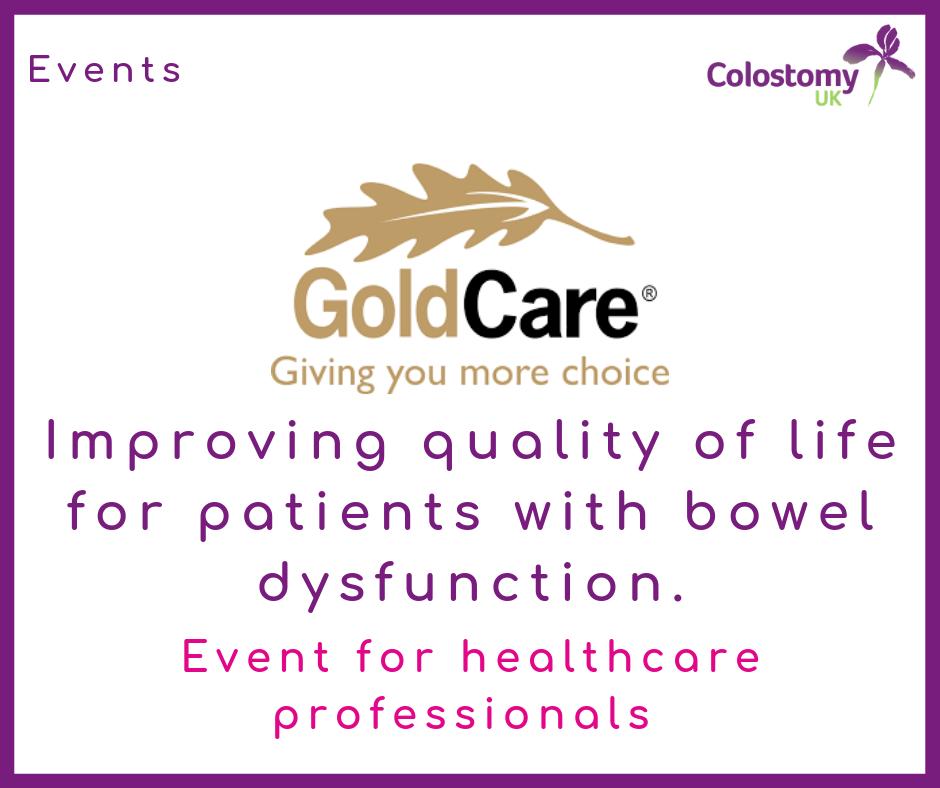 Colostomy UK are excited to be exhibiting at Goldcare's study day on:
Improving quality of life for patients with bowel dysfunction.
This event is aimed towards healthcare professionals and there will be a number of guest speakers who will take you through a variety of subjects to enhance your understanding of these often debilitating problems and provide management strategies to improve patients quality of life. Our very own Richard Biddle will be exhibiting on the day, so be sure to come along and say hello.
The event takes place on: Wednesday, 2nd October 2019
At: The Crown Plaza, Fieldhouse Lane, Marlow, SL7 1GJ
Registration: 10:00 Closing: 15:30 (approx)
Travel expenses will be reimbursed.
RSVP and enquiries to: customercare@goldcare.healthcare
–
Itinerary
10:00
Registration and coffee
10:20
Welcome and outline of the event: Joanna Hardy
10:30
Introduction to Rectal Irrigation
Helen Jarvis, Bladder & Bowel Specialist Nurse Practitioner RGN, Level 6 Urology & Continence Care, Level 7 MSc Advanced Practice in Colorectal nursing. CSCT Counselling
11:30
Conservative Management and Treatment of Lower Bowel Dysfunction
Lucy Allen, Clinical Specialist Physiotherapist in Biofeedback & Pelvic Health & BSc
12:30
LUNCH
13:30
Surgical Bowel Management of Lower Bowel Dysfunction
Mr Francis D'Souza MBBS, MS, MPhil, FRCS (Glas), FRCS (Gen) Consultant General & Colorectal Surgeon
14.30
Anterior Resection Syndrome
Samantha Robertson-Greenwood, Stoma, Bladder & Bowel Nurse Specialist RGN, Dip HS, BSc, ENB 980/216 (Level 6) Level 6 Urology & Continence Care, Level 7 MSc Advanced Practice in Colorectal nursing
For more information visit:www.goldcare.healthcare or call Freephone 0800 592786