04 January, 2022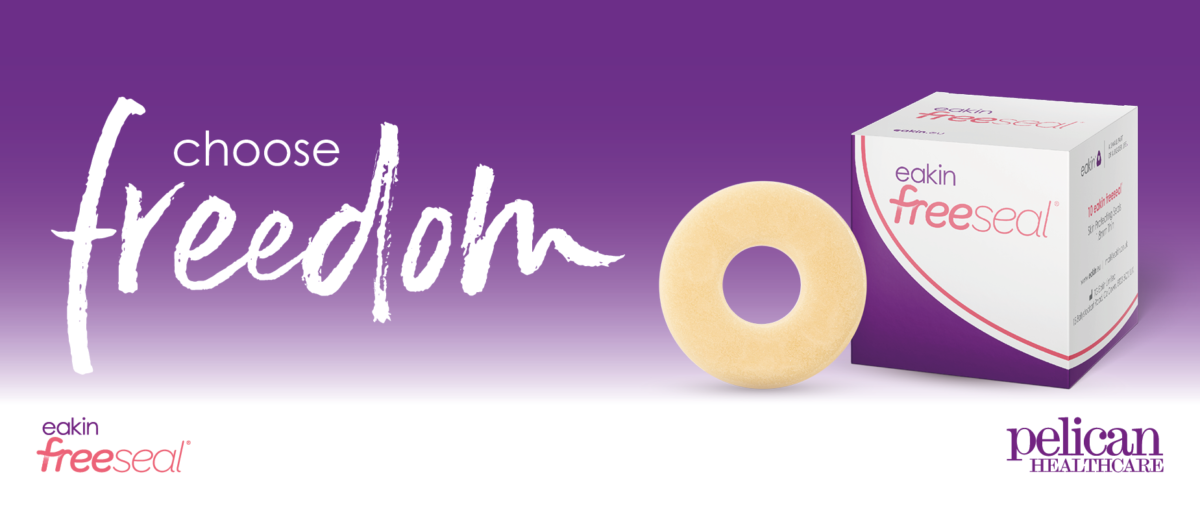 This is a sponsored post by Pelican Healthcare
Pelican Healthcare, part of the Eakin Group, recently launched their innovative new seal, eakin freeseal®. An entirely new seal formulation, designed to provide freedom from leaks and sore skin. Read how eakin freeseal® has made a difference to the lives of two ostomates.
When developing the new seal formulation, the eakin R&D team wanted to develop a seal that was not only thin and easy to remove, but provided the same great security, absorbency and comfort expected from an eakin seal.
What the team achieved, is a seal that is 1.8mm thin, absorbent, mouldable and easy to remove. These features make eakin freeseal® the ideal seal for convex drainable users, discreet and secure, while providing effective protrusion of the stoma.
Two recent converts share their experience of using freeseal® and how it has given them freedom from leaks and sore skin.
Introducing Summer, a 21-year-old student who leads an active lifestyle that includes playing tennis and travelling to various countries.
Summer is a very new ostomate, only having her stoma formed in June 2021. Yet during this short period Summer has tried several products but struggled to find anything that really worked for her.
"I struggled a lot with my stoma to begin with as everything I tried itched, hurt or leaked."
"My stoma nurse suggested I try a seal…they were so helpful but one thing I didn't like was how thick they are, I could feel they were there. They weren't very malleable, so trying to stretch it to the size of my stoma didn't work."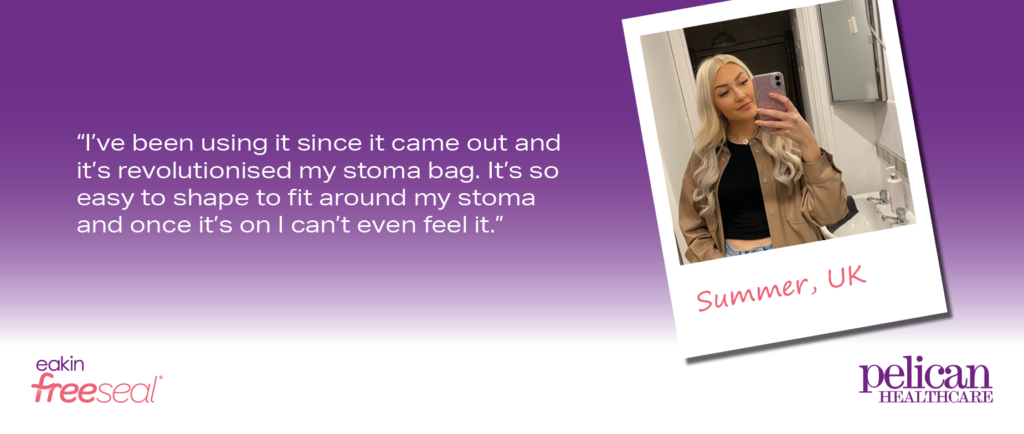 Eakin freeseal® seal formulation is designed to keep the seal mouldable while being very thin at 1.8mm, allowing ostomates to stretch, rip, wrap and mould to the shape of their stoma, ensuring a secure fit, and freedom from leaks and sore skin.
"When I heard about freeseal® I knew I had to try it…I did and thought this is so nice. It is so easy to get to the right size to fit around your stoma."
"My skin around my stoma has always been really sore since the surgery, there's always been red bits around the edges, but since I've started to use the freeseal® they've actually started to heal" Summer commented.
Fellow ostomate Louise, a 36-year-old mum, who leads a busy lifestyle working as an Operations Manager and enjoys hiking. Louise may be familiar to you as @crohnsfighting. She has been a vocal voice in the stoma community for a number of years, having had 3 stomas formed over the past 12 years, with her most recent in 2018
Louise also commented on the mouldability of the eakin freeseal®
"You can still rip it and wrap it which is an amazing feature that I love."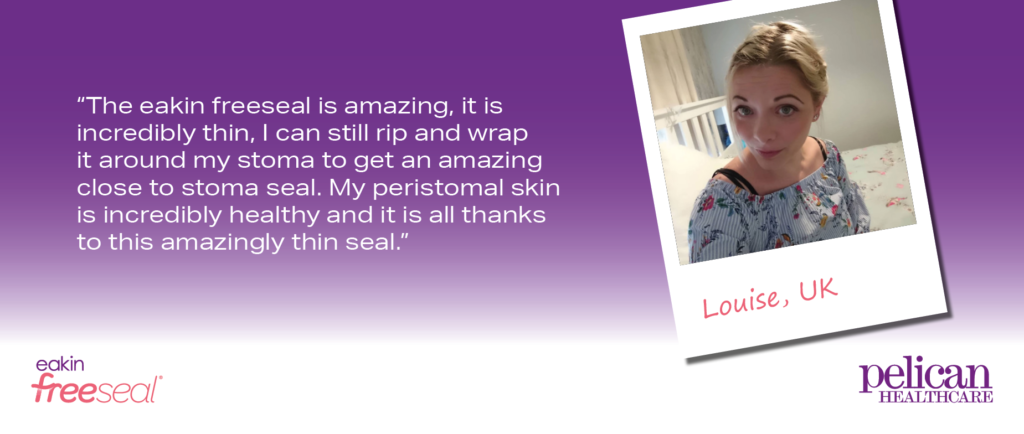 Louise was equally as thrilled with eakin freeseal® ability to extend the wear-time of her pouch and how easy it was to remove.
"I wear a bag for 3 to 4 days at a time…taking off my bag and seeing there's little to no residue left on my skin from the freeseal® is great. I'm using less adhesive remover, it's easier and quicker to clean my site."
Freeseal® formulation is designed to minimise the residue left on the skin, making it easy to remove, while it actively absorbs output preventing leaks and therefore protects against skin damage.
Summer was equally impressed with freeseal® ability to extend her pouch wear time:
"I've noticed I don't need to change my bag every day, which I was doing, I can change it every couple of days because it is stopping stuff [output] coming through, which I was so surprised about because even using the previous seals I was still getting stuff coming through… I even had my bag on the other day for 3 days which is literally unheard of since my surgery."
At Pelican Healthcare, our aim is to enable ostomates to live with complete confidence, to not have to worry about leaks, and not to have life defined by their stoma. With this in mind, eakin freeseal® has been designed to give peace of mind against leaks and sore skin.
If you would like to sample eakin freeseal® visit www.pelicanhealthcare.co.uk
Choose freedom, choose eakin freeseal®