21 November, 2019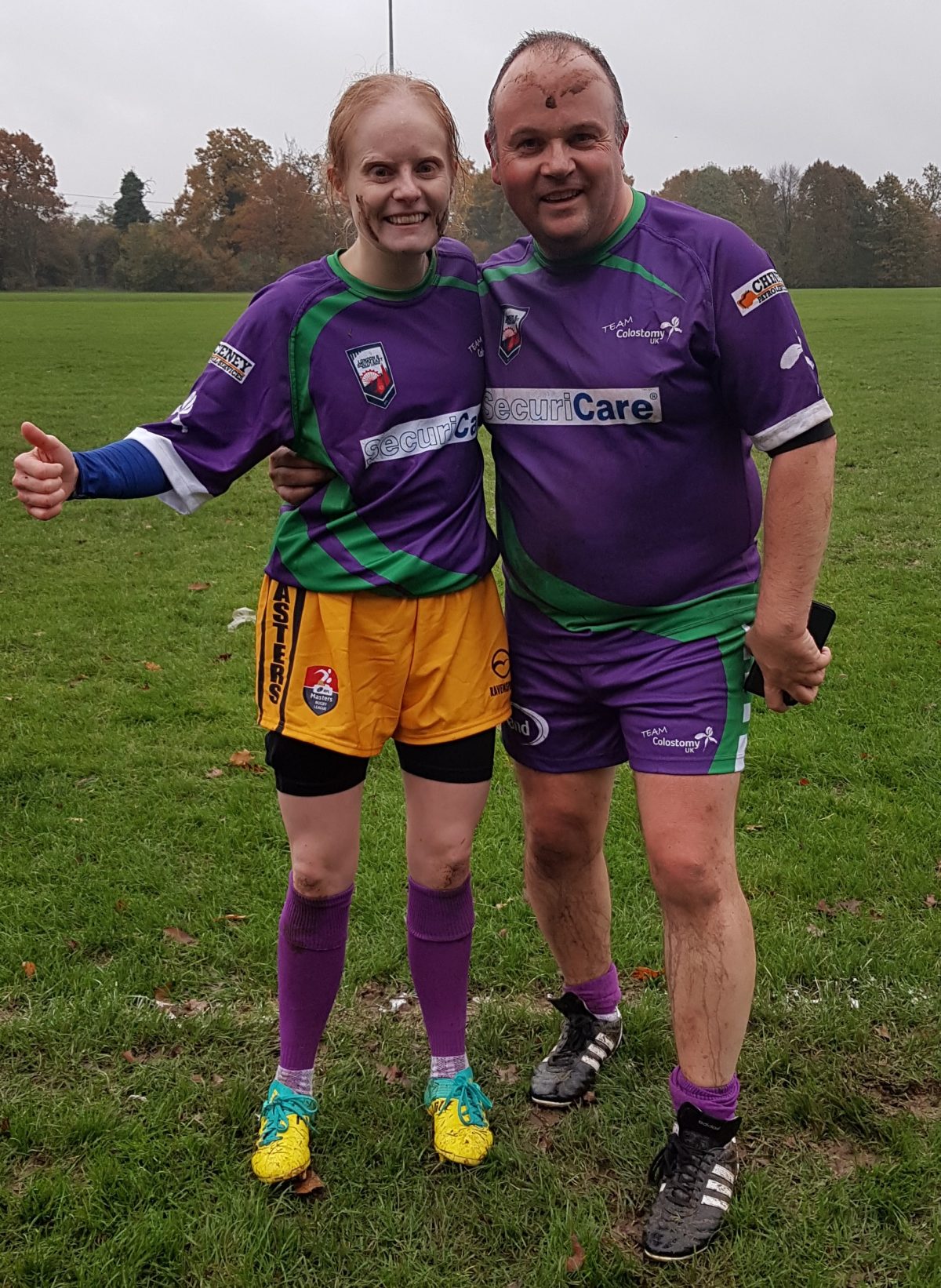 Rebecca Langley made her debut for our Team Colostomy UK Rugby League team on November 9th against Aldershot & Fleet. This is her story of the day.
Having followed Colostomy UK's Rugby League team throughout the year, I was delighted to discover that their last fixture of the season was against Aldershot and Fleet. As this is close to home, I let Giovanni know that I planned to come along and support the team. Much to my surprise, he invited me to play. As a huge rugby (union) fan, I couldn't turn down the opportunity! With all my ailments and injuries no other team would do this, particularly given my diminutive size 8 stature.
Being able to participate as I did, is something I didn't think would ever be possible. Two and half years ago I was diagnosed with stage three bowel cancer. I was 30 at the time. This followed more than a decade of suffering from ulcerative colitis. The surgery I had left me with a permanent ileostomy and no colon. As I recovered, I was warned that I may not be able to run again. As a keen runner, this felt like the end of the world. Complications with chemotherapy left me in Intensive Care fighting for my life. With the use of core recovery programmes and hernia support-wear, I have managed to run again, which I have found tremendously helpful, both for my physical and mental wellbeing. I still have to be careful about how much I do, and I certainly did not expect to be joining a rugby team!
The morning of the match was beautiful but chilly, but as kick-off approached the weather changed to heavy rain. This was perfect for a softer landing in the mud, and appreciated by many players.
Ian Smith from State of Mind and also our referee for the match, gave a moving pre-match talk to raise awareness of mental health in sport and the workplace. This highlighted some of the triggers to look for if you're worried about your mental health or the health of someone else. He also talked about coping mechanisms and the importance of not being afraid to ask for help.
On to the game itself… fourteen players, many with stomas, including two women, were led out by three-year old Jasper, our mascot for the day. Jasper is also an ostomate, having had stoma surgery for Hirschsprung's disease at the age of two. A moment's silence was then held in memory of Calum Garwood, who passed away in October 2019. He joined Team Colostomy UK in June for their game against Chorley Panthers, and will be missed by everyone.
As the rain poured down, the whistle blew and the players were off. The great thing about Team Colostomy UK is the variety of experience, from hugely experienced rugby league players, to those like me, who have never stepped on a rugby pitch before. The match wasn't about winning or losing, but four tries were scored by Team Colostomy UK!
With Team Colostomy UK it's the taking part and not the try scoring that counts. All players are welcome; it's all about tackling the stoma stigma.
An auction and raffle were held after the match, and a fantastic total of £950 was raised for Colostomy UK. It will be used to support their ongoing projects, helping people to return to sport, and keep active after stoma surgery.
I can't wait to see what Colostomy UK have planned for next year.
If you've been inspired by Rebecca's story and would like to play for Team Colostomy UK please get in touch with Giovanni at giovanni.cinque@colostomyuk.org. We'd love to hear from you!
©Copyright Colostomy UK 2019. No part of this article may be produced without the prior permission of colostomy UK