23 March, 2020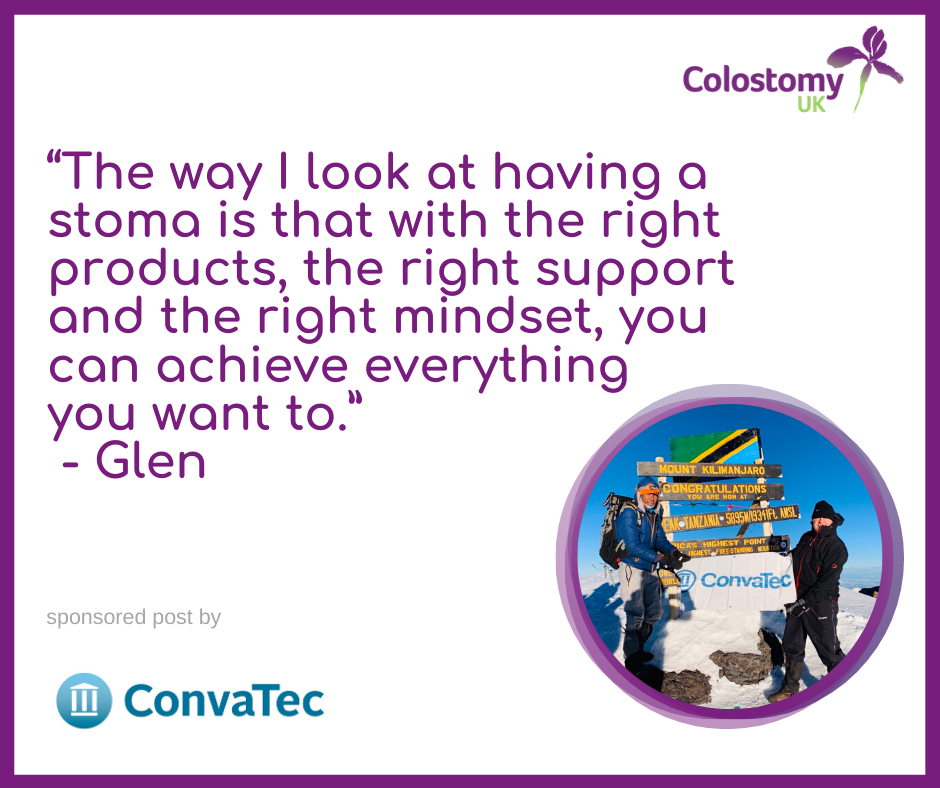 I think of myself as a thriver, not a survivor. I'm embarrassed when people say they are inspired by me or treat my achievements differently. The way I look at having a stoma is that with the right products, the right support and the right mindset, you can achieve everything you want to.
I help out in a local stoma support group and everyone is probably bored of me saying it, but when you think about all the health challenges we've overcome –  for me this includes cancer, MRSA and ulcerative colitis – climbing a mountain, running a marathon or swimming the Channel should be easy in comparison!
Of course, I haven't always thought this way. I've had my Ileostomy for 18 years now. Back then, I was in my early twenties and living my dreams in the Royal Navy on-board a nuclear submarine. I beat thyroid cancer but then developed ulcerative colitis.
It's not easy being happy-go-lucky when you're constantly ill and on the toilet. I remember my son was six years old at the time and I took him fishing. I ended up going to the loo 32 times that day, spending more time on the throne than on the fishing bank!
My stoma saved my life. My ConvaTec bag transformed it.
I completely understand why not everyone shares this feeling. But that's how I have come to think of my stoma. It saved my life – and finding the right product completely transformed the way I live my life.
I'm a great believer that there's a stoma bag for everyone. Initially I struggled with my baseplate and leakages, but then my stoma nurse changed me onto the ConvaTec Natura two-piece bag . Finally, things started clicking into place (and I'm not just talking about the baseplate!).
The new bag gave me confidence and the old me started coming back. I got into going to the gym again, walking, golf and wild swimming.
I set up my own successful businesses. I had so much energy and so much time to make up.
Over the last few years, I've got into hiking. I just love the freedom. In 2019 I actually completed a sponsored walk up Kilimanjaro which was amazing. It's actually inspired me to train as a mountaineer and, because I love photography, to pass my drone flying licence.
Life has its challenges, but I believe we can all overcome them.
If you can overcome the challenges of living with a stoma, you can overcome anything. That to me is inspiring and empowering.
My best bit of advice to anyone with a stoma, whether they're post-surgery or have had one for years, is to experiment and find the right pouch for your body. I use the ConvaTec Mouldable Natura 2-piece system  that flexes to fit the contours of my body, giving me all the flexibility and confidence I need. Best of all, you can order free samples to try for yourself simply by calling ConvaTec on 0800 282254 or clicking here .
We've all got our own mountains to climb. Hopefully I'll see you on top of one of mine soon.
Good luck on your stoma journey.
Glen.