28 September, 2018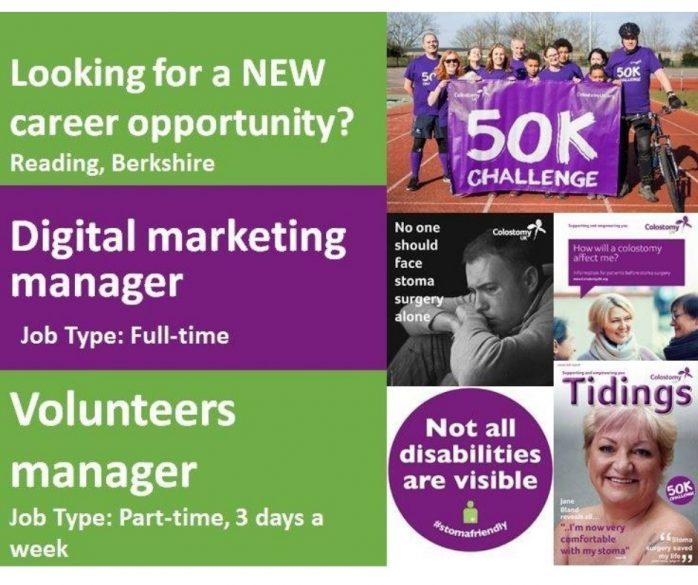 Colostomy UK is a growing charity that supports and empowers people that have had life changing stoma surgery, their family, friends and carers.
We currently have two vacancies at our head office in Reading, to join our small friendly team.
Digital Marketing Manager – Job Type: Full-time
You will be a hands on person who will manage, develop and implement Colostomy UK's marketing and communications strategy. Your role will ensure that the charities services and work are effectively communicated so that all stakeholders are aware of the charity. You will also be involved in driving campaigns, events and projects that support and empower people with a stoma and drive social change. This is the opportunity to be involved at a pivotal time for the charity with the opportunity to influence the digital and communications strategy.
This is a wide and varied role with the opportunity to get involved in all areas of the charities work. You will need to have the required knowledge and experience to hit the ground running.
3+ years' experience of working in a wide and varied marketing role.
Strong experience of growing reach over social media platforms and developing a digital marketing strategy.
An understanding of influencing social policy would be advantageous
Ability to be creative and hands on with branding and design
Volunteers Manager – Job Type: Part-time, 3 days a week (we would consider contract too)
Volunteers have always been at the heart of Colostomy UK's work. The skills, experience, time and energy they bring, makes a huge difference to so many. Our volunteers support people living with stomas, their families, careers and friends through open days, helpline support, fundraising and campaigning to raise awareness.
Colostomy UK wants to continue to be a fantastic place to volunteer and to do this we are looking for an inspiring and passionate manager to lead our Volunteering Team. You will need to have access to a car, willing to travel and work some evenings and weekends (time will be given back) This role is for an initial year's contract, working part time (3 days a week) you will have overall responsibility for volunteers.
We need an experienced people manager with a thorough understanding of what motivates people and a creative approach to maximising the effectiveness and efficiency of our Volunteer Strategy. You'll be responsible for recruiting, training, supporting and developing our volunteer team.
Please send your CV and covering letter to Libby Herbert by e-mail to libby.herbert@ColostomyUK.org
Interviewing process: Initial phone interview followed by face to face interviews